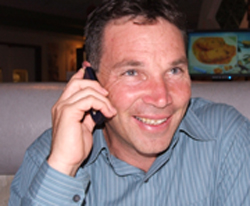 Gil Ya'ari
By Donald H. Harrison, Editor of the
San Diego Jewish World
SAN DIEGO — As a youth, Gil Ya'ari, the new Israeli director of the partnership between Sha'ar Hanegev and the San Diego Jewish community, was so fascinated by environmental science that he left his home in the greater Tel Aviv area to board at a high school which offered special classes on the environment.
The school was in Sde Boker, the kibbutz in the Negev Desert to which Israel's first Prime Minister David Ben-Gurion retired, and where he and his wife Paula are buried. Ben-Gurion had a dream that Israelis like Ya'ari would migrate from the central core of the country in order to settle and develop the outlying areas that have been part of Israel since the 1948 War of Independence. Those areas are the Negev Desert and the Galilee.
Perhaps it was the influence of Ben-Gurion's dream, or perhaps it was the satisfaction that Ya'ari found living in desert country, that persuaded him to remain in Sde Boker even after graduation from the high school. He eventually became a teacher of environmental science. He and his wife, Shlomit, have three children, whose names all reflect their interest in the environment. Mayan (spring) is about to celebrate his bar mitzvah. Daughter Shaked (almond) is 9, and the youngest boy, Keshet (rainbow) is 2 1/2. Eventually the school teacher whose command of English is excellent was tapped by the Jewish Agency for Israel to serve as an emissary (shaliach) to the Jewish community of Houston, similar to the position that Shoshi Bogoch of Jerusalem occupies in San Diego.
After completing his assignment in Texas, Ya'ari was recently selected to direct the San Diego-Sha'ar Hanegev partnership program as well as a similar one between Philadelphia and the Negev city of Netivot. From his home in Sde Boker, he said, his commute is about one hour to Sha'ar Hanegev.
Our interview came during a time when terrorists in Gaza were firing numerous rockets at the adjacent communities of Sha'ar Hanegev. I asked him what one is supposed to do if the sirens sounding a rocket attack go off when one is one's car. He said drivers can't always hear the sirens, but when they can, they should get out of their cars and, if buildings are nearby, run to an air raid shelter. Otherwise, he said, one is supposed to lie down flat on the ground, covering one's head.
Ya'ari was in San Diego to meet members of the Jewish community here and to spread the word about some upcoming partnership activities designed to draw Sha'ar Hanegev residents even closer to the San Diego Jewish community.
Among those with whom he conferred were board chair Claire Ellman, and staff members Steve Morris, Lisa Haney and Barbara Sherman of the Jewish Federation of San Diego, Larry Acheatel of the San Diego Jewish Academy, Debbie Kornberg of Congregation Beth Am, Nate Stein of the Jewish Community Center, Jenny Starr of Tarbuton, Rabbis Philip Graubart and Avi Libman of Congregation Beth El, and John Schneider of the San Diego-Sh'ar Hanegev partnership committee.
A major focus of Sha'ar Hanegev's attention currently is the planned dedication on June 26 of the educational complex which San Diegans helped both financially and with ideas.
The complex, which will include a high school and an adult learning center and house a variety of educational initiatives, was built to withstand the impact of Kassam rockets launched from the nearby Gaza Strip. But beyond security, planners wanted the complex to enhance quality of life for people of the region, and even, as Ben-Gurion might have wished, to help attract new settlers to Sha'ar Hanegev's 10 kibbutzim and one moshav.
Drawing from the San Diego Jewish Academy, there will be a pluralistic synagogue within the complex, so that the students, who come mainly from secular families, will know that there are a variety of ways that one can practice Judaism. Additionally, visitors from Sha'ar Hanegev to San Diego drew upon some of the lessons of High Tech High School here in the understanding that high-tech industries have become an increasingly important sector of Israel's economy.
Ya'ari said the June 26 ceremony will be attended by some San Diegans, including representatives of the Viterbi family, whose patriarch, Andrew Viterbi was a co-founder of Qualcomm. The highlight of the ceremony will be an address by Israel's President Shimon Peres.
Exchange programs between the two regions figure high in the partnership's planning. There are plans for cinematographers from San Diego and Sha'ar Hanegev to study films together — and perhaps to participate in each other's film festivals. Another initiative would bring together photographers, both amateur and professional, to discuss techniques and to roam around the Negev together in an effort to produce a photo exhibit that could be enjoyed in both countries. A pilot program for seniors is also being given consideration, the idea to have seniors live, eat, study and engage in works of tikkun olam together.
There are, of course, many interests that residents of Sha'ar Hanegev and San Diego County might share, Ya'ari noted. He said the partnership will look for ways to multiply the impact of such get-togethers, the reason for having photographers produce an exhibit; movie fans participate in film festivals, and seniors doing good works together.

Harrison is editor of San Diego Jewish World. He may be reached at donald.harrison@sdjewishworld.com