The Jewish Federation of San Diego County has announced the election of Claire Ellman as new Board Chair to lead the Board of Directors.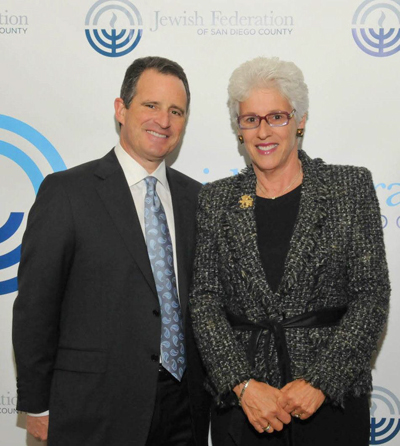 Ellman succeeds Jan Tuttleman, who served as Chair of the Federation Board from 2009 – 2011.

Ellman currently serves as a board member of the Jewish Community Foundation (JCF) of San Diego County, co-chair of the Marketing and Fund Development Committee of the JCF, member of JCF Philanthropy Committee, member of Jewish Women's Foundation, member of Joint Federation-JFS Community Healing Center/Chaplaincy Task Force, and a member of Jewish Education Services Council (JESC).

Ellman is a past trustee of the UJC (now JFNA) and has served on the board as major gifts chair, an executive member of women's philanthropy, Celebrate Seventy-Five Event Co-Chair, co-chair of the 2006 San Diego Israel Emergency campaign of Jewish Federation of San Diego.

Further, Ellman's past positions have included President of San Diego Jewish Academy,

President of the Agency for Jewish Education, Vice President of UCSD Hillel, chair of the UJC Day school committee, Board and Executive member of JESNA, and founding chair of Lipmann Kanfer Institute for JESNA.

Ellman is a Wexner Fellow graduate and was a member of La Jolla High School governance committee.

Ellman is married to David and they have three children and three grandchildren.

The Federation is grateful to departing Board Chair Jan Tuttleman, and is thankful for her many years of service, dedication and commitment.